French Foreign Policy in the Middle East
6 December, 2022·2:00 pm

-

3:30 pm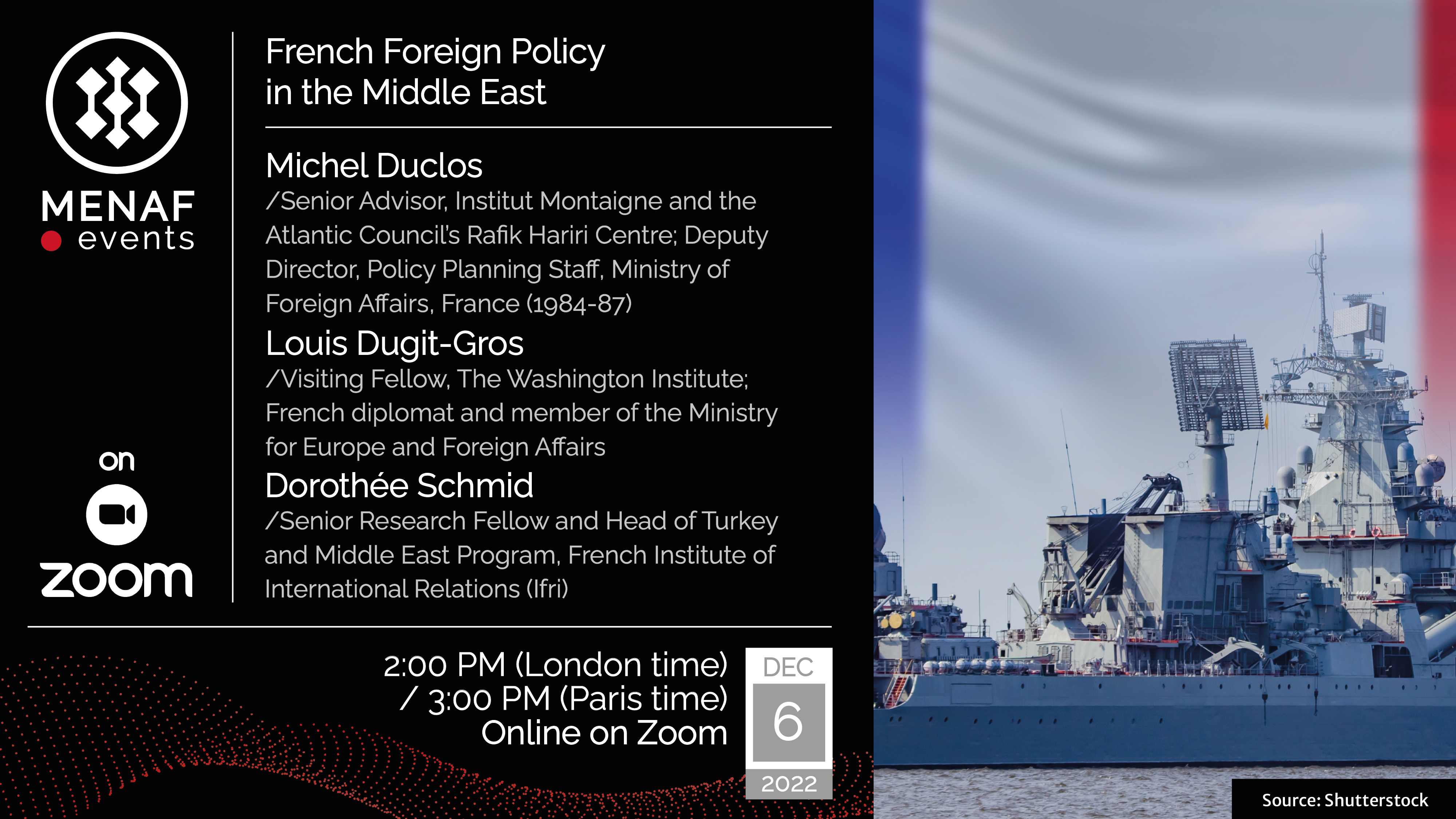 Since his reelection in 2021, French President Emmanuel Macron has aimed to foster close ties with Egypt and the Gulf states, making France one of the most active and influential Western countries in the region. But challenges abound. From Turkey's balancing act between NATO and Russia, to the Gulf's non-alignment in the Russia-Ukraine War, to the ongoing global energy crisis, the region is full of challenges for French foreign policy. Our expert panel will discuss these and other issues, and will consider the future of French influence and policy in the MENA region.
Our Speakers:
Michel Duclos | Michel is a French diplomat who currently works as a Senior Advisor at the Institut Montaigne and the Atlantic Council's Rafik Hariri Centre and Middle East program. Michel previously served as Deputy Director of the Centre for Analysis and Forecasting of the Ministry of Foreign Affairs from 1984 to 1987. He also served as Deputy Permanent Representative of the France to the United Nations from 2002 to 2006, Ambassador to Syria from 2006 to 2009, and Diplomatic Advisor to the Minister of the Interior from 2009 to 2012. In February 2016, he assumed the leadership of the International Diplomatic Academy as Director General, where he focuses on governance issues, economic diplomacy and mediation as a means toward conflict resolution.
Louis Dugit-Gros | Louis is a French diplomat and member of the Ministry for Europe and Foreign Affairs (Ministère de l'Europe et des Affaires étrangères). He is currently a visiting fellow at The Washington Institute. Dugit-Gros served as the press officer for the French embassy in Morocco, and as a political advisor for Libya, and a desk officer for Qatar and Oman at ministry headquarters in Paris. He also worked as a research analyst for the French Ministry of Defense. Dugit-Gros hold master's degrees from Sciences Po Lyon, Saint Joseph University of Beirut, and Paris-Dauphine University.
Dorothée Schmid | Dorothée has worked as a country-risk analyst for Bank Crédit Agricole-Indosuez and has carried out consulting missions for public institutions (European Commission, French Ministry of Economy, Ministry of Foreign Affairs), as well as NGOs and private companies, before joining the Institut Francais des relations internationals (The French Institute for International Relations) in 2002. In 2008, she started and developed IFRI's Contemporary Turkey Program. Dorothee is currently a head research fellow at IFR and remains the head of their Turkey and Middle East program. Her current research focuses on the dynamics of political reforms in the Middle East, the future of the rentier-state culture, post-conflict agendas and the new competition for influence among powers in the region.